By Dulce G,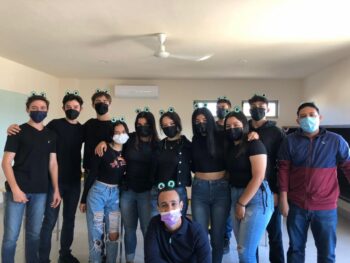 My name is Dulce G, and I am currently in my fourth semester. In a year's time, I will be living my last days of high school with these people who, for better or worse, have been with me throughout this educational journey called school.
Personally, I believe that a good school is composed of various factors, but one of the most essential is the camaraderie and the relationship we have with each other as classmates. After all, it is with these people that you spend the majority of your time, and yes, it can be very challenging and complex at times. However, in the end, we can always find something that brings us together.
We are currently the fourth-semester group, but we were also the nervous new kids in middle school. Over time, we grew, faced numerous changes and challenges, but there was always something that united us. That something was the school, the space where friendships, feelings, relationships, laughter, tears, and stress emerged.
It started as four walls with chairs and a chalkboard on that first day, but over time, it became a safe place for many of us. Each classroom holds different meanings and memories for each of us, but for all of us, it is that place where we have grown, changed, matured, and shared different things with one another.
Today, we are closer to finishing, closer to leaving our last mark in the memory of this school that has shaped us for these five years. We have one classroom and one more year to live new adventures and create even more memories, and for my part, I intend to enjoy every moment until the end.
I still remember when we arrived at this school. We were small and clueless, watching as the world spun around us, about to board that train to start a life within the school full of adventure and secrets that, out of loyalty, I won't share here. Hahaha.
However, I will share the time our entire class came together to present to our mothers a dance on their special day. These are the women who always support us in everything, from bringing us things we forgot to listening to our presentations before important assignments. So, even though not all of us had the talent for dancing, we united as a class and practiced until our legs trembled. After many rehearsals filled with laughter, embarrassment, and sore feet, we coordinated ourselves and put on a spectacular show for all the moms.
They left with roses, laughter, and the knowledge that their children had put in a lot of effort and had learned to dance a little more. And we left with the satisfaction of having achieved it, the unity as a group, and the certainty that we can achieve and do anything we set our minds to. So, if you ask me, "What is my class like?" My answer is, we are like a great variety of fruits and vegetables, different and with very different flavors. But if you know how to combine and bring them together, we can become the best salad of all.