The Palapa Society believes in the absolute necessity of a good education and ensuring every student who yearns for one has the chance to acquire it.

Where Does the Money Go?
• Over 90 academic scholarships for our new Palapa School, the local middle and high school, and university students.
• English instruction programs for over 170 children and 90 adults.
• Community adult and children's libraries with special programming for children.
• Materials and supplies for all programs.
• Support for local academic and athletic special events.
• Teacher salaries and maintenance costs for new Palapa Learning Center.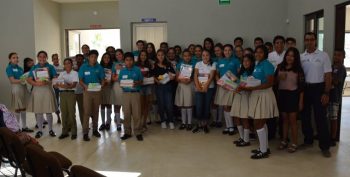 How can you donate?
An on-line US tax deductible contribution can be made through the International Community Foundation. Or you can send a check to ICF, please make it payable to The Palapa Society of Todos Santos, A.C. Then mail to: International Community Foundation, 2505 N Ave, National City, CA 91950
A direct deposit or wire transfer to The Palapa Society of Todos Santos, A.C. account
(please note, for "Palapa Society of Todos Santos Fund") to:
BBVA Bancomer
Blvd. Benito Juárez, esq. Zaragoza s/n, Todos Santos, B.C.S., MX
Account No.: 0171817345
Routing # (CLABE): 12040001718173454
Swift Number: BCMRMXMMPYM Branch Number: 5226 Todos Santos
This page may also be available in:

Español (Spanish)