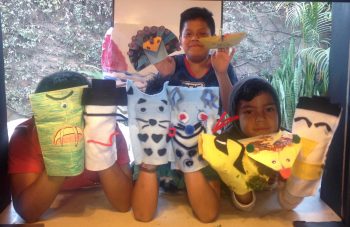 If you have the desire to help, we'll find something you can do. Contact us and we will help you find
the volunteer position within our organization that you would most enjoy.

1. Sponsor a student scholarship.
2. Volunteer as a mentor in the after school English program.
3. Assist with English language classes for adults.
4. Help at special events and fundraisers. (see Calendar of Events)
5. Volunteer at the Elena Poniatowska Library or the Children's Library.
6. Assist Todos Santos artists at the Children's Art Classes.
7. Volunteer for office administration assistance.
8. Donate your usable household items to our Tianguis.
9. Make a US tax-deductible donation online through the  International Community Foundation (ICF).
10. Make a donation directly to our account at: Bancomer acct. 0171816063 (Pesos) or 0171817345 (Dollars) Please inform us of your bank deposit at info@palapasociety.org.
This page may also be available in:

Español (Spanish)