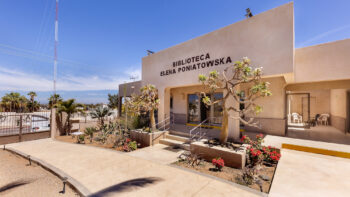 Welcome to the Elena Poniatowska Library, the largest bilingual library in the state of Baja California Sur! Our library was inaugurated in November 2017 in honor of award-winning Mexican author, Elena Poniatowska, known as the "Grande Dame" of Mexican literature. We are immensely proud to provide this valuable resource to the community of Todos Santos, and we remain thankful to our volunteers and donors for making this project possible.
Our library is entirely run by volunteers, who have created an inviting atmosphere for the community to come together, engage in literary discussions, and exchange ideas. With a collection of over 9,000 books, magazines, and DVDs, the library serves as an indispensable resource for the entire community. Membership is available for an annual fee of $250 pesos, enabling patrons to access the extensive array of materials.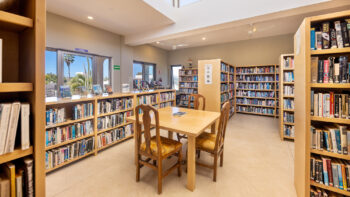 We also joyfully welcome book donations in both English and Spanish during our regular hours. Our mission is to promote literacy and education in Todos Santos, and we appreciate the tireless efforts and unwavering dedication of our volunteers in establishing the Elena Poniatowska Library as a center for cultural and intellectual exchange in the area.
Thanks to their commitment, we can foster a love for reading and lifelong learning, promote literacy and education in our community, and create a hub for cultural enrichment. Explore our library and join us in our mission to make a difference in the lives of our community members.
Biblioteca Elena Poniatowska Hours
Monday, Wednesday and Friday weekly
from 10 am – 1 pm
For more information please email: BEP@palapasociety.org
For up-to-date information please visit and "like" our facebook page.
---