Summer Swim Program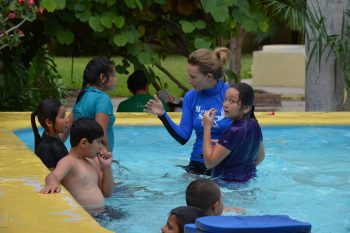 Todos Santos is an oasis in the Baja Peninsula bounded by the desert and the Pacific Ocean. We have some of the most beautiful beaches in the world. They are pristine, vacant and at times, very dangerous. Most residents in our community do not know how to swim. Every year there are near drownings and sometimes fatalities. There are no life-guards. Presently local surfers act as the first responders at the beaches. The Summer Swim Program is held in a swimming pool donated by a local resident where swimming instructions and basic water safety rules are taught to young children over their summer vacation.
It is our desire to develop year-round water programs that would include swim instruction, swim team competition, and lifeguard training. Training strong young swimmers to become life guards is crucial to protect community residents and visiting tourists at our beaches.
Eco Kids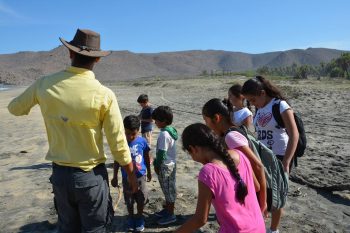 The Eco Kids Program is an environmental education program based on ecology principals.
Through interactive, hands-on activities and field trips, Eco Kids learn to respect the environment by understanding the benefit to their lives. This program illustrates our connection with the environment using real life examples so kids can relate on multiple levels at school, home, and in their everyday lives. The Eco Kids Program aims to create environmental stewards for the next generation.
Eco Kids is part of Summer program, and relies on volunteers and partnerships. Contact us for more information at: info@palapa.org
This page may also be available in:

Español (Spanish)