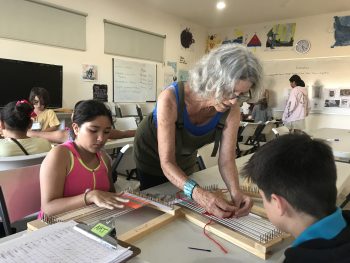 The focus of this program is to inspire creativity and imagination. Students experiment with different materials and explore new ways of creating. This leads to individual growth in critical thinking while creating confidence, a sense of fun, and adventure.
Classes are scheduled every Wednesday from 5-6 p.m. in The Palapa Learning Center art room. Artist and instructor Jill Mollenhauer teaches the classes from October to June. Class size is limited to 16 students, ages 8-15. Enrollment is on a first-come-first-serve basis with previously enrolled students receiving priority. Enrollment applications begin October 1. Parents interested in having their child participate in the After-School Art Program can contact Jill Mollenhauer via WhatsApp or text: 612 158 6681
COVID-19 Notice: This program is currently on hold due to the Pandemic.
This page may also be available in:

Español (Spanish)