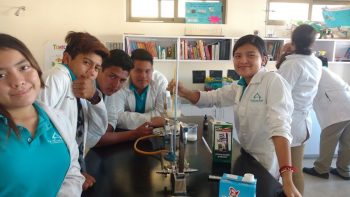 Sebastián C., Sarah L. & Valeria C.
In May 2019, eighth graders Sebastián C, Sarah L, and Valeria C participated in the State Science Fair. Their project focused on electromagnetic waves. This was the subject of the physics class taught by teacher Xavier Quiroz. The students designed and demonstrated an electromagnetic wave apparatus and explained the applications in technological advances for the development within our society. Their presentation was delivered in English and Spanish. This team won first place in its category. With donor support, students have a chance to compete and excel in national and international competitions and programs.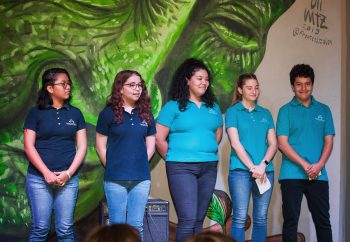 Leadership Club
In February 2019, John Paul Jones and his musical friends gave a special Todos Santos concert to raise funds for The Palapa School. Over 400 people throughout Baja California Sur came to enjoy this fabulous concert. The Palapa School's musical and dance students practiced for weeks and showcased their talents with traditional Mexican performances for John Paul and the hundreds of guests. Speaking for the first time before a live audience of this size, students from The Leadership Club inspired the audiences with speeches highlighting their dreams and aspirations for the future.
---
Valeria Shares the News: Spring 2020