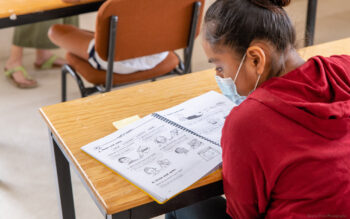 Our Bridge to English program started in 2003, is one of the longest-running educational programs The Palapa Society offers. The program runs October through June (annually), offering Beginner, Intermediate, and Advanced classes 3 days a week, 3 times a day, to students ages 6-17.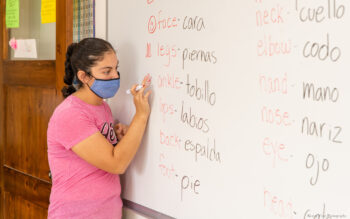 The primary focus is to help students acquire and refine English skills beginning at an early age through their high school years. Volunteers work with over 100 students annually. Learning a new language is an important skill but can be a challenge. The Palapa Society's Puente Program helps them meet the learning curve by utilizing small class sizes and a systematic, activity-based curriculum. Additional one-on-one help and guidance ensures no child is left behind. The mission of this program is to guide children in their quest to speak, read, write, and comprehend English.
Wish List for Puente Program
Big Items:

Color Printer
100 new chairs
New Whiteboard
AC for Children's Library
5 TV's
20 Tablets/Computers
Games
Box Paper for the Printer

Smaller Items:

Lined Notebooks (not grids)
Pencils
Erasers
Color Paper
Glue Sticks
Crayons
Paper Clips
Dry Erase (Whiteboard) Markers
Staples
Toner Cartridges for Brother Printer – Cartridge TN-B022
Electric Pencil Sharpeners (X-acto School Pro)
Card Stock
Information on Classes and Registration
Ages: 5 – 17 years old
Registration: Last week of September (Annually)
Classes Held: First week of October –  end of June
Mon., Tues. & Thurs. from 3:00 to 6:00 pm
Cost Per Month: $120 MXN
Fees cover: Class materials
For more information please contact Jacki Gillespie at puentealingles@palapasociety.org.
Volunteer Information
If you are in Todos Santos the months of September – June and would like to become a volunteer teacher. Please contact Jacki Gillespie. We are always seeking help within our community.