Short Historical View of The Palapa Society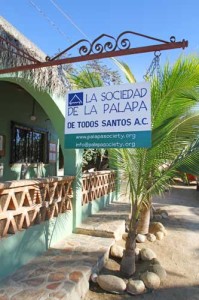 The Palapa Society of Todos Santos, A.C., is a multi-cultural non-profit Mexican Civil Association. Our mission is to make a positive difference in people's lives through inspirational quality education and timely support through community service and programs.
The Palapa Society started more than 15 years ago, with local expat homeowners Jeanne Cordova and Lynn Ballen, who believed that the secret to a successful future for Todos Santos and the surrounding pueblos and rural areas, resides in providing children access to a quality education in preparation for their adult lives.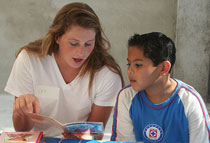 In the mid-2000's, Donna Viglioni came forward, seeking a place to hold the English classes that became the Bridge to English (Puente) program. This program enabled students to learn English from native English speakers. This was our first on-site education program and continues to be a cornerstone for the community to come to The Palapa Learning Center. All volunteers. Within two years, The Palapa Society added a community library, children's art program, the Chino medical program, and an English program for adults.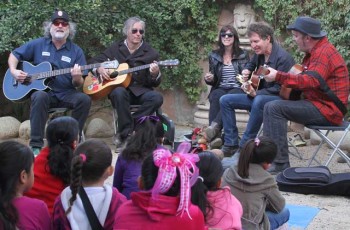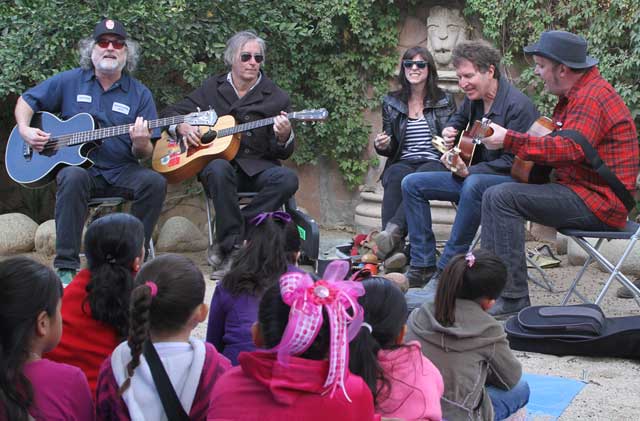 In 2012, Peter Buck of the Grammy® award winning band REM, began an annual Todos Santos Music Festival and designated ticket sales to The Palapa Society. Peter also provided a home in the San Vicente neighborhood for The Palapa to use for its library and English instruction programs.
In September of 2014, Odile, a Category 4 hurricane, severely damaged Todos Santos and surrounding areas. Peter Buck immediately committed all advance Music Festival ticket sales to relief efforts by The Palapa. That money, combined with a donation from our partner ICF and a Go Fund Me account provided over $100,000 USD, allowing The Palapa Society to replace nearly 150 lamina roofs, provide food and clothing to many people, and clear abundant debris from the streets throughout the barrios.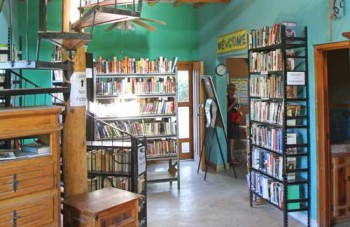 Early in 2015, PLC Founding Donors, who are part-time Todos Santos residents that had a vision of providing quality education for Todos Santos youth. They committed to building a facility for a new school and the ongoing Palapa Society programs of English and a community library.
The Palapa Learning Center is made up of The Palapa School, the bi-lingual Biblioteca Elena Poniatowska community library and the Children's library, the Puente Program (Bridge to English) for children, English for Adults program, and additional children's after-school and summer programs including the Children's After School Art program, Summer Water Safety, and more. Since The Palapa Society's inception in 2003, the basic goal remains the same: optimizing educational opportunities for local children and their families.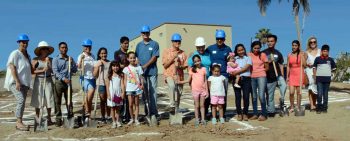 All of the programs at the Palapa Learning Center are overseen by our Board of Directors. The Palapa Board is all-volunteer, and meets 1x/month year-round. Each Board member is required to be an active participant in the following committees: Advisory Committee, Palapa School Committee, Finance Committee, and Fund Development/Marketing Committee. Our Board meetings are open to the community.
2003 – Palapa Society of T.S. founded
2003 – Chino Medical Program began when PSTS helped a young boy name Chino who needed eye surgery
2005 – Beca Program started from an $800 usd donation made in memoriam to Maureen Ostrich by her daughter. A young women was chosen as recipient from the migrant camps in Pescadero. Our first becario was endowed from secundaria, through prepatoria and university in La Paz, and graduated as an elementary school teacher.
2005 – Puente Program began
2007 – First Palapa Center & Todos Santos Community Library
2007 – Erick Ochoa's art program began
2009 – Children's library created
2009 – Todos Santos 5K Run – first event to fund Chino Swim Program
2010 – Adult English Program began
2012 – First Todos Santos Music Festival, featuring Peter Buck and friends
2012 – Move to new Palapa Center in San Vicente with 5 years grace to find & build a new Center
2012 – Expansion of Puente program
2013 – Second Todos Santos Music Festival, featuring Peter Buck and friends
2013 – Expansion of Children's Library
2013 – Launch of Palapa Building Campaign Fund to finalize new permanent Palapa Center by 2017
2014 – Third Todos Santos Music Festival, featuring Peter Buck and friends
2015 – Fourth Todos Santos Music Festival, featuring Peter Buck and friends
2016 – Fifth Todos Santos Music Festival, featuring Peter Buck and friends
2016 – Construction begins on the new Palapa Learning Center
2017 – Opening of the new Palapa Learning Center, Library and School. Welcoming of the first classes. Elena Poniatowska attends the dedication of the new community library, which is named for her: The Biblioteca Elena Poniatowska. Welcoming of the first classes of an SEP compliant, 21st century education for middle school children.
2019 – June- The first Palapa School, 9th grade graduating class of 2019. September- Welcoming the first classes of high school students into the 10th grade.
2022 – July – The first Palapa School, High School graduating class of 2022.