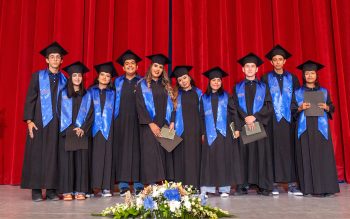 On July 11, The Palapa School held its first graduation eventwith middle and high school students. This joint event was held at the Manuel Márquez de León Theater, an emblematic and historic venue in Todos Santos.
The gala was attended by students, parents, teachers, local authorities, and members of the Palapa Society members.
We want to extend a special thank you to the facilities offered by the Theater Board, The Palapa Society, and the Parents' Committee who collectively made this event possible. Finally, we congratulate the 20 middle school graduates and our first 10 high school graduates. We are sure bright and promising futures await everyone to achieve their dreams. Meanwhile, they have already taken another step along the way!