Planting Seeds with the Beca Program–Karla's Story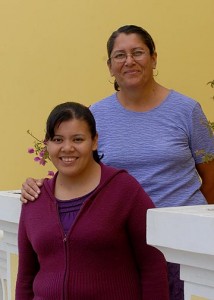 Our first graduate from the Beca Program was Karla. When Karla graduated from college in July 2010, she made history — and realized an improbable dream. "I've learned that nothing is impossible," says Karla, who received a bachelor's degree in Education from Benemerito Escuela Normal Urbana in La Paz.
For Karla, the diploma represents the culmination of four years of hard work, lessons learned and opportunities seized — all made possible by The Palapa Society of Todos Santos, A.C., a multicultural, non-profit Mexican Civil Association, founded in 2003.
Five years ago, The Palapa Society's founders went to CECYT, the local high school in Todos Santos, in search of deserving students who would benefit from a beca (the Spanish word for scholarship) — students who otherwise couldn't continue their educations due to their families' economic hardships. The group chose 10 becarios (scholarship holders) — including Karla — and the Beca Program was born. Today, the program supports 30 high school students and 11 university students, and has a waiting list of youths anticipating more donations.
And as the first Beca Program scholar to earn a college degree, Karla is about to become one of The Palapa Society's most prominent success stories. Not that it has been an easy path.
"I have to work hard," she says. "There is time to play and time to study. It's a balance, but it takes hard work." After graduation, Karla, 21, plans on continuing her studies by pursuing a master's degree. She wants to become a kindergarten teacher and also study music, photography and other languages.
Karla said that having the Beca Program support has motivated her to set and obtain her goals, and helped her continue to dream of what she might accomplish in the future. And she's grateful to those who have made it all possible — not just for her, but for her fellow becarios.
"I want to thank them (Beca Program donors) for this opportunity," she said. "Because of their support, they helped us (the becarios) reach our dreams and have broadened our horizons. This has changed our lives. No matter what, you have to have money to study, but as students we want to help our parents, too, and we think about dropping out of school because of economic hardship.It is a struggle, but when we have a beca, it is a relief and it motivates us to continue working hard on our education."
Karla's mother spoke softly: "The only real inheritance that we can give our children is an education. It would have been impossible without the beca.
"Even before Karla received the beca, her father had told her that an education was the most important thing to have. We did not know how we would do it, but we knew we would have to sacrifice. Even with the support of the beca, we still have to sell hot dogs to help Karla out. If it wouldn't have been for the Beca Program, I don't know how we would have done it. It would have been very, very difficult for us."
Erick Ochoa, the President of The Palapa Society, said, "I see a lot of potential in these students. They are really bright kids but they have no opportunities. I see in them tomorrow's great leaders, doctors, teachers. They have the desire to be someone, to help someone, but they are going through such hard times. An education in Mexico means everything." Tuition for one semester at the high school level is approximately $80 U.S., an impossibility for many economically challenged Mexican families. Without a beca, the majority of these students would drop out of school.
The Beca Program is totally financed by donations made to The Palapa Society, The program is administered entirely by volunteers; therefore 100 percent of the donated money goes directly to the students' tuition fees. If you would like to give to the Beca Program or would like more information, e-mail info@palapasociety.org or call 612-145-0299 or 612-140-3990. Said Ochoa: "Once you give someone an opportunity, a chance, you never know. It's like planting a little seed. It might change your town, your country, or the world."
The mission of The Palapa Society is the development and administration of scholarship, education, medical and environmental programs for the benefit of local children and their families.This is accomplished by working in concert with various community entities and through the efforts of dedicated volunteers.
To learn more about the Beca Scholarship Program and how to become a Beca Angel click here to view a video.