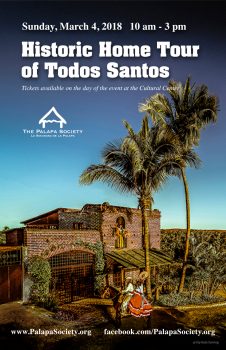 "I stepped through an ordinary gate off one of the charming streets of Todos Santos and found myself transported to another place and time. Each home, each building I walked into, I experienced the rich history of Todos Santos." Kim Dee of Los Alamitos, California, a participant of the Todos Santos' Historic Home Tour adds, "I happened to be in town and took the tour. So many exquisite homes and buildings were open to patrons of the Tour. This is a great way to learn about the town's past while seeing inside all the beautiful homes. I plan to coordinate this year's trip to be in Todos Santos again in March."
This year's Todos Santos' Historic Home Tour is Sunday, March 4, 2018 from 10:00 – 3:00. This one-day event benefits the educational programs of The Palapa Society of Todos Santos, A.C. Tickets may be purchased on the day of the event at the Cultural Center located on Calle Benito Juarez. Admission is $300 pesos or $20 USD. Docents are on hand at each site to offer more information.
This year's coordinator, Paul Bumann says, "We have over 25 historic sites including private homes, hotels/inns, municipal buildings, mission church, and sugar cane processor. Experience sites thoughtfully restored to reflect the uniqueness of the days before electricity and telephone. Open just once a year to the public, these magnificent homes and buildings allow you to soak in and imagine the tranquil elegance of Todos Santos over a century ago. Be sure to bring your family, friends, neighbors and architects."
New this year is an optional "Find the Saint Challenge." Todos Santos (translated All Saints) has several statues of saints around town cleverly perched in niches on the exterior of buildings. Find and mark all of them on a map and you will be entered into a drawing for a commemorative painting by renowned artist, Erick Ochoa. It's a fun way to look up and notice all these little treasures around town. Also new this year, several restaurants will offer discounts on breakfast and lunch to wristband holders while you are in town for the day.
In the words of historic homeowners, Lisa Welsch and husband, Doug Colton, "We are delighted to open our historic outdoor theater home Casa Cine Viejo for the Palapa Society Fundraiser. I cannot think of any better non-profit that benefits a wide range of folks from Todos Santos. The history and culture of this town are amazing, and our home – although updated – still has the historic woven guest casitas and theater wall in place. Some architectural features remain which will give all visitors a sense of how it was back in 1935."
President of The Palapa Society, Erick Ochoa, sums up, "We love working with all the homeowners and businesses to give visitors and residents an exciting experience to see the history of Todos Santos while benefiting the Palapa Society's students."
Bumann adds, "The program booklet has been translated into Spanish so be sure to spread the word to all your Spanish-speaking family members, friends and neighbors!"
The Palapa Society, a Mexican and U.S. non-profit, that offers:
Scholarships to over 90 middle/high school and university students annually.
The newly opened Palapa School providing a high quality, SEP-certified education to prepare middle school (and soon high school) students for university and a lifetime of opportunities.
After-school English classes serving over 170 students and 90 adults
A bilingual adult library with over 9,00 books and DVDs
A bilingual children's library
Art, ecology, swimming, and water safety classes
This page may also be available in:

Español (Spanish)