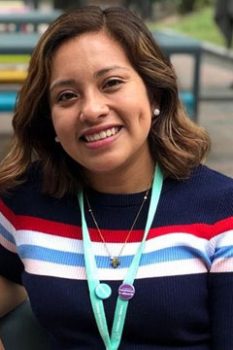 Citlali Estefania Balbuena Soriano
Escuela de la Palapa
Co-Director & Teacher
Email: citlalli@escueladelapalapa.org
She graduated in Educational Processes from the Benemérita Universidad Autónoma de Puebla. Her professional work has been mainly in educational research, which has led her to participate in national and international conferences in countries such as Spain and Cuba. In 2016 she carried out an academic exchange at the University of Castilla La Mancha, Spain. Her thesis work on good tutoring practices obtained Cum Lauden honorable mention from her University and was subsequently recognized by CONCYTEP (Council of Science and Technology of the State of Puebla).
She has published research articles in scientific journals such as Dialnet. Her area of particular interest has been teacher professionalization, which is why she has dedicated himself mostly to designing and providing training to teachers from different states of the republic. She is currently teaching subjects in the area of Social Sciences and is studying the Master in Leadership and Education at Enseña por México.
This page may also be available in:

Español (Spanish)