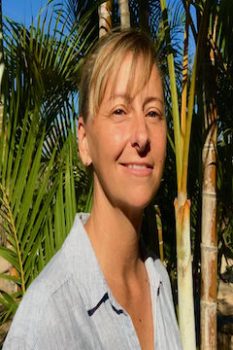 Board of Directors
Secretary
Laurel D'Angelo was born in southern California to parents who were actively involved in local politics and the public school Parent-Teacher Association. She grew up with a strong belief in the power of education to bridge the gap of social and economic inequality. Laurel attended university in San Francisco and was an active volunteer with various non-profit organizations, including the National Organization for Women, the San Francisco Commission on the Status of Women, and Second Harvest Food Bank.
After a successful 25-year career in marketing, with 15 years in product marketing at Adobe Systems, Inc., Laurel traveled extensively before moving to Todos Santos full-time in 2016. Inspired by the incredible work done by The Palapa Society and its many volunteers, Laurel began volunteering with the organization's annual 5k Run, Tianguis, and Historic Home Tour events. In 2017, she became a member of the Board of Directors.
Laurel is committed to ensuring that the variety of educational programs offered by The Palapa Society benefits local Mexican families, helping them lead positive progress in the future. She believes that education is the key to breaking the cycle of poverty and inequality and is passionate about contributing to the organization's mission. As Secretary of the Board of Directors, Laurel plays a critical role in supporting The Palapa Society's efforts to expand access to quality education for all.