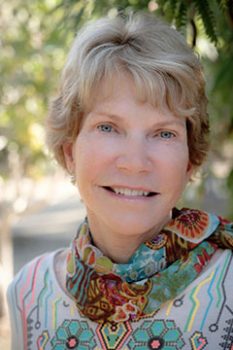 Cindy Higgins, and her husband, David, split their time between Evergreen, Colorado and Todos Santos. They built a home in Todos Santos in 2006 next door to their daughter, Marimar, and their two grandchildren, Santi and Kalea.
Over the last 50 years Cindy has raised three daughters, has been an elementary school teacher and has been involved in many volunteer organizations. Access to quality education has always been a priority for her. As she gained an understanding of the schools in Todos Santos she came to the conclusion that the town would benefit from a private school alternative. The concept of the school would be to provide a rigorous curriculum with a pathway to a university education.
In 2014 she and David approached the Palapa Society Board with a proposal to partner with the Palapa Society to build the Palapa Learning Center. In addition to giving a home to the Palapa's library and Puente programs, the Palapa Learning Center included a private middle and high school. Cindy is thrilled that the school opened its doors in 2017. She is passionate about the school and is very involved in contributing to its success.
This page may also be available in:

Español (Spanish)