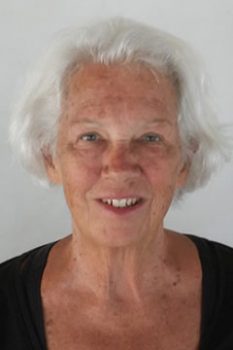 Five years after Joy O'Brien moved to Todos Santos in 2009, she decided she might be ready to volunteer with The Palapa Society. Joy poked her head into the little house on Calle Obregon, the former location of The Palapa Society, where English classes were being taught to local children. Donna Viglione called out to her, "Good timing. Watch this class for an hour. I'll give you your own class next week." Joy ran away.
Five years later, in 2014, Joy returned. Serena Saltzman, Director of the Puente al Inglés (Bridge to English) program for children, took things a little slower than Donna Viglione, and recruited Joy to be a Teacher's Aid. Soon after, The Palapa Learning Center was built, and Joy was promoted to Director of the Infantil Biblioteca Elena Poniatowska. As a former pediatric registered nurse in Louisiana, Joy thought, "I'll see what I can do. I love kids. I love to read. And, I feel like I can figure out what appeals to kids."
Continued from Newsletter:
This incredible endeavor was not easy. First, the library needed to be moved to the new location. In August, a team of volunteers helped sort, clean, label, and move the books. Without air conditioning in either location. (Joy notes, the library still does not have air conditioning.) Next, the book shelves were too tall for the new location. So, Joy convinced a few carpenters to take them apart, reassemble them, paint them and install them correctly to be sure they didn't topple over. Then, she created reading nooks, with the help of Merci Todos who made the cushions.
Once the library was opened, Joy quickly learned that the local children did not understand the concept of a library. She and her team of volunteer librarians needed to show the kids that this wasn't a free bookstore. Books were to be borrowed, and returned. So they provided an incentive to return the books by giving a little prize, such as a pencil, a bookmark, or a sticker. And it worked!
Also, it was important to Joy that the library be kid-friendly. Kids do not know the names of authors or titles of books. So, instead of using the Dewey Decimal system like in the United States, books were shelved by topic such as 'Animals,' or 'Poetry' or 'Mysteries,' similar to retail book stores. This method also helped young cardholders develop critical thinking skills. One youngster asked where he could find a book about sharks. Like every good librarian, Joy challenged him to figure it out. "What is a shark? Where does it live? If you wanted to find a book about sharks, which section do you think it would be?"
One of the crowning achievements is Joy's Saturday Reading Circle and Craft Hour. Joy picks a book every week, and reads to the children in Spanish. Afterwards, they work on an art project based on the book that was read. On average, 30 children attend this free program – 20 of them are regulars, who then bring friends, cousins, and neighbors. This program brings Spanish- and English-speaking children together, and fosters a life-long love of reading. One of Joy's fonder memories was when she asked an English-speaking girl if she enjoyed the book that week. She nodded affirmatively, then added, "But I didn't understand a word you were saying!" Another great memory was when Joy organized a children's shoe donation drive around Christmas time, inspired by the children's book "One Thousand Tracings – Healing the Wounds of WWII" by Lita Judge. The kids spent one Saturday in December wrapping the shoes, to be given to the kids in the migrant farm worker camps in and around Todos Santos. One little girl really admired the pink tennis shoes with sparkles, that were just her size. She wanted to keep them. Joy explained that she already had tennis shoes, and that these were a gift for another girl who didn't have any. That day, that little girl learned the joy of giving to others, just like the family in the book.
As you can imagine, it is with a heavy heart that we announce Joy's retirement from the library.
She's moving back to Louisiana next month to be near her grandchildren. When asked what she'll miss the most, Joy's voice beamed in her rich Southern drawl, "I love seeing the kids coming in, plopping on a beanbag chair while they wait for mom to pick them up from English class."
Joy is quick to mention that the children's library wouldn't be a success without her team of volunteers – Terry Pearson, Debbie Thomas, Maryann Douglas, Adry Cota, and Marilourdes Geraldo, all of whom have been at the library since it opened.
Joy wants to thank the Palapa community for their support with books and monetary donations, and to share this reminder to the full and part-time expats: "It is important to immerse yourself in this wonderful community. Make friendships. Don't hide behind Facebook to ask questions for help. Try to learn Spanish, and use it every day. These community ties make the difference in the world. Also, please continue to support all of Palapa's Education programs. School is a huge opportunity to change the future of this town. Generations of futures. Not only will the kids benefit, but the families will benefit, and YOU will benefit."
Joy, thank you for creating a magical, wondrous place for the children in our community. We imagine these young readers will keep your legacy going in this town forever, starting with teaching their own children how to read.
This page may also be available in:

Español (Spanish)