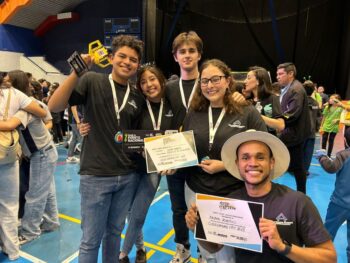 By Ardice Farrow
The Palapa School Robotics Club won BEST in Innovation at the recent Regional First LEGO League Robotics Competition and was selected to participate in the National Competition on March 11 & 12 in Mexico City.
This is the first time club members have participated in a competition, and we are all thrilled with their creativity, hard work, and success.
To prepare for the regional LEGO competition, students were required to build and code several different robots to compete in multiple challenges. The second requirement of the competition was to "reimagine a better energy future," identify a local energy and environmental problem, and propose an innovative solution.
As electricity in Baja California Sur, Mexico, is costly and production contributes to CO2 emissions, the students proposed an electrolysis plant to produce hydrogen and use it for the thermoelectric plant in La Paz, the capital city of Baja Sur. This solution would decrease CO2 emissions, reduce production costs, and make electricity cleaner and more affordable to Baja Sur.
The Palapa Robotics Club was made possible because of generous donations from local Todos Santos supporters, a District Grant from the Pilot Knob Rotary Club, and Texas Rotary District 5790, and support from The Denton Texas Rotary Club.
https://www.firstlegoleague.org/
As a result of pre COVID contributions from Palapa supporters, a Rotary District Grant from The Pilot Knob Rotary Group, District 5790 and the added support of members of the Denton Noon Rotary Club The Palapa School was able to launch its first Robotics Club with eight students in late 2022.