Carrera deTodos Santos 5K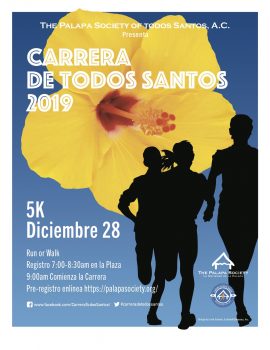 When: December 28th, 9:00 AM
Where: Town plaza, Todos Santos
Click here to Register
Race Day Registration: Town plaza, 7:00-8:15am
Awards: Participation and special gift for every finisher. Medals for first place in each age group. Trophies for top three runners, male and female.
​Todos Santos is a town begging to be explored. Founded in 1724 and designated a Pueblo Magico in 2006, this oasis by the sea is steeped in the ranching, farming, and fishing traditions of Old Baja. Throw in some surfers, artists, and the odd musician and you have quite a unique place. The pueblo embraces a number of distinct barrios, each with their own individual character and distinctive name: Zona Historico, Las Flores, El Rio, Las Brisas del Pacifico, San Vincente. Experience these and more first hand, or rather first foot, by running or walking in the tenth annual Carrera de Todos Santos 5K.
This scenic and challenging 5K is scheduled, as has been traditional, on the last Saturday of the year, December 28th. The race draws participants from Cabo, La Paz, Todos Santos, and from as far away as Australia and Holland. Beginning promptly at 9:00 AM, the loop course begins and ends in the town plaza directly in front of the historic, restored Teatro Marquez de Leon. From the start, the runners follow a well-marked, hilly course through colorful neighborhoods, often cheered on by local families. Whether you are a serious competitive runner, an everyday jogger, or a happy walker, you are welcomed at the finish line with a smile and a participation medal. The Carrera de Todos Santos 5K is, as always, sponsored by the Palapa Society of Todos Santos with the support of generous local businesses and individuals.
This year, the Palapa Society proudly celebrates its 15th anniversary as a Mexican non-profit. What started as a fairly modest effort to supply high school scholarships (becas) to a handful of students in need has grown, poco a poco, into a widely-respected organization that sponsors an array of programs. Each of the programs supports the core goal of the Palapa Society: improving educational opportunities for the entire Todos Santos community. Current programs include two libraries, a children's library and the Elena Poniatowska Community Library; an after-school English instruction program for children; an evening English program for adults; a scholarship program for sixty public high school/university students; art programs staffed by professional artists: summer swim programs; and our most ambitious project: a private, SEP-certified middle and high school. Many of these programs are housed on our beautiful new campus, the Palapa learning Center.
Of course, as programming has grown, so has the need for financial support. We receive no government funding and are completely dependent on donations. Over time and by delivering on expectations, the Palapa Society has earned and enjoyed the support of local businesses, residents, and visitors. The Carrera de Todos Santos 5K is just one of our many fundraising events. By participating, you will not only have a great time, but you will be helping a very worthy organization. Come out and run or walk on December 28th. It's a great way to end the year!
Thank you to our Sponsors!
---

---

This page may also be available in:

Español (Spanish)