List of Annual Events (listed January to December)
January
No events scheduled at this time. Please check this space again later.
---
February
Todos Santos Open Studio Tour Website
February 9 & 10, 2019 10 am – 4 pm
The Open Studio Tour is a two-day event held February 9th and 11th, when visitors are able to visit artists in their studios, learn about their creative process, and purchase their art. Participating artists include painters, sculptors, photographers, muralists, air painters, jewelers, print makers, collage artists, potters, and wood turners. If you are interested in participting in the 2019 event. Please email: events@palapasociety.org 
The Open Studio Tour funds benefit The Palapa Society of Todos Santos, A.C.'s Children's Art Program.
---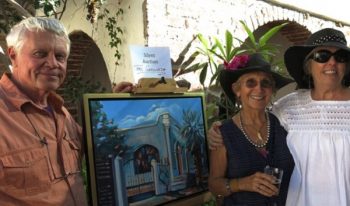 March
Todos Santos Historic House Tour (Bi-Annual Event)
March 2020
Citizens of our Pueblo Magico invite visitors to tour their historic homes. Proceeds from the tour support The Palapa Society's building fund. Casa Tota is the starting point, Todos Santos. Tour the Historic Homes of Todos Santos and learn more about our towns history.
---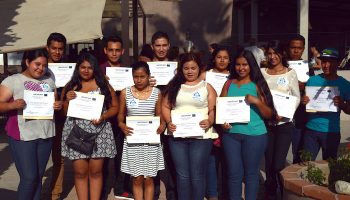 June 
Annual BECA Ceremony
We host and honor Beca graduates and their parents at the conclusion of the school year, awarding each of our becarios a certificate of achievement.
---
November  
12th Annual Tianguis (yard sale) – November 24, 2018
Casa Ejidal Todos Santos, 9:30 am -12:30 pm
The Palapa Society's annual tianguis is once again scheduled for November 24th, the Saturday after Thanksgiving at the Ejido Hall on Militar. This event helps fund all of the Palapa Society's programs: high school and university scholarships, the Palapa Learning Center, the Elena Poniatowska public library, the children's library, and the English programs for children and adults.
We gratefully accept clean, gently used clothing, household items, tools, working or easily repairable electronics, books, or almost anything else. No used toilet brushes please. Once was enough. Seriously.
Suitable goods can be brought to Tesoros Escondidos on Cuauhtémoc between 11:30 and 4:00, Tuesday through Saturday. If the store is not open for some reason, please do not leave your donation on the sidewalk. Call the number posted, and arrange a time for delivery.
We will also accept your goods at the Ejido Hall on the Friday before the event from 8:30 on. There will be plenty of volunteers to help you unload.
Thank you for your donations and for helping us bring high quality programs to our magic pueblo.
Please email info@palapasociety.org with any questions. See you there!
---
December
8th Annual Carrera de Todos Santos 5k Run

December 29, 2018 our Carrera de Todos Santos returns! Please come back for more details soon.
You can also follow our facebook page, by clicking the following link; Carrera de Todos Santos Facebook Page.
---
Program Schedules
This information has moved to the Programs Schedules page— click here.
This page may also be available in:

Español (Spanish)