Calendar List of Annual Events
January
Annual The Todos Santos Music Festival
Watch this space for more information.
---
February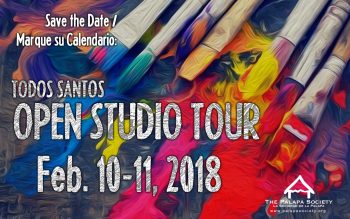 February 10 & 11, 2018 10 am – 4 pm
The Open Studio Tour is a two-day event held February 11th and 12th, when visitors are able to visit artists in their studios, learn about their creative process, and purchase their art. Participating artists include painters, sculptors, photographers, muralists, air painters, jewelers, print makers, collage artists, potters, and wood turners.
The Open Studio Tour funds benefit The Palapa Society of Todos Santos, A.C.'s Children's Art Program.
---
March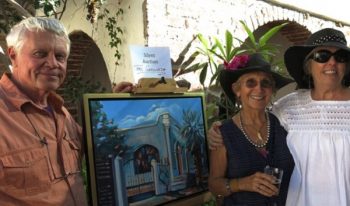 Todos Santos Historic House Tour
March 4, 2018
Citizens of our Pueblo Magico invite visitors to tour their historic homes. Proceeds from the tour support The Palapa Society's building fund. Casa Tota is the starting point, Todos Santos. Tour the Historic Homes of Todos Santos and learn more about our towns history.
---
May
No events scheduled at this time. Please check this space again later.
---
June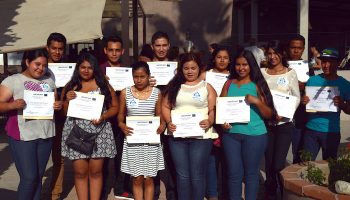 Annual BECA Ceremony
We host and honor our graduates, scholarship students and their parents at the conclusion of the school year, awarding each of our becarios a certificate of achievement.
More information and details will be posted in May 2017 about this years event.
---
October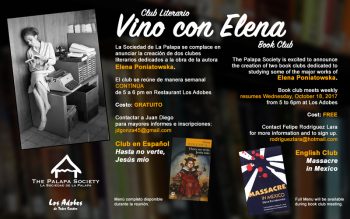 Vino con Elena
Starting Oct 18, 2017 – currently in session for 2018
Los Adobes Restaurant
5-6 PM
English Club Dates: Oct 2017 – May 2018
Spanish Club Dates: Year round
English Book Club: Felipe Lara will lead the English language club to begin on Wednesday, October 18 from 5 to 6:00 pm at Los Adobes. Books to be read and discussed will be El Corazón de Alcachofa—Heart of the Artichoke and Hasta No Verte Jesus Mío—Here's to You, Jesusa! The club will meet weekly until the end of May 2018. If you would like more information and sign-up please email rodriguezlara@hotmail.com.
El club de lectura "Vino con Elena" los invita a unirse a la lectura de la novela más importante de los últimos 50 años en México "Hasta no verte Jesús mío". La cita es en Los Adobes de 5:00 a 6:00 pm. Venga, disfrute de la aventura que ofrecen los libros, la charla entre amigos y un buen tinto.
Juan Diego at jdgonza45@gmail.com.
---
November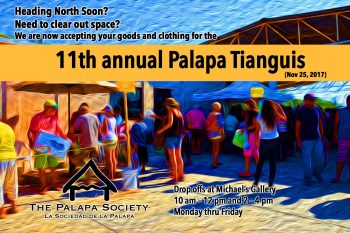 11th Annual Tianguis (yard sale) – November 24, 2018
Casa Ejidal Todos Santos
Proceeds from this event fund the Beca (education scholarship) program for community youth. Heading North? Doing Spring cleaning? Please bring your clean, gently used donations to The Galeria de Todos Santos during regular business hours. Your donations will help raise money for The Palapa Society's programs.
Please email info@palapasociety.org with any questions. See you there!
---
December
Annual Carrera de Todos Santos 5k Run

December 29, 2018 our Carrera de Todos Santos returns! Please come back for more details soon.
You can also follow our facebook page, by clicking the following link; Carrera de Todos Santos Facebook Page.
---
Program Schedules
This information has moved to the Programs Schedules page— click here.