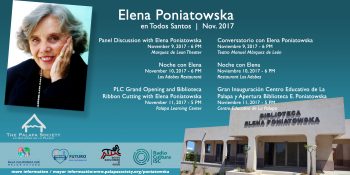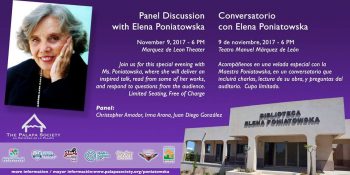 Panel Discussion with Elena Poniatowska
Join us for this special evening with Ms. Poniatowska, where she will deliver an inspired talk, read from some of her works, and respond to questions from the audience.
Limited Seating
Free of Charge
November 9, 2017
6:00 PM
Teatro Manuel Marquez de LeonPanel Discussion with Juan Diego Gonzalez followed by audience Q&A session.
Click here to R.S.V.P
Conversatorio con Elena Poniatowska
9 de Noviembre, 2017 – 6 pm
Teatro Manuel Márquez de León
Acompañenos en una velada especial con la Maesta Elena Poniatowska, en un conversatorio que incluirá charlas, lectura, de su obra, y preguntos, del auditorio. Cupo limitado, entrada gratutia.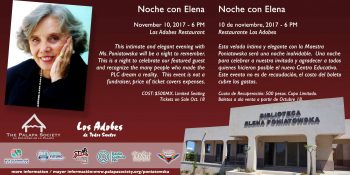 Noche con Elena
This intimate and elegant evening with Ms. Poniatowska will be a night to remember. This is a night to celebrate our featured guest and recognize the many people who made the PLC dream a reality. This event is not a fundraiser, price of ticket covers expenses.
Limited Seating
SOLD OUT
November 10, 2017
6:00 PM
Los Adobes
Noche con Elena
10 de Noviembre, 2017 – 6 pm
Restaurante Los Adobes
Cuota de Recouperación $500.00 MXP
Esta velada intimo y elegante con la Maestra Poniatowska será una noche inolvidable. Una noche para celebrar a nuestra invitada y agradecer a todos quienes hicieron posible el nuevo Centro Educativo. Este evento no es de recaudación, el costo del boleto cubre gastos. Boletos a ala venta partir de Octobre 18.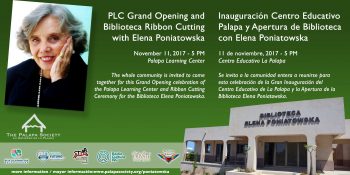 PLC Grand Opening and Biblioteca Ribbon Cutting with Elena Poniatowska
The whole community is invited to come together for this Grand Opening celebration of the Palapa Learning Center and Ribbon Cutting Ceremony for the Biblioteca Elena Poniatowska.
RSVP Requested
Free of Charge
November 11, 2017
5:00 PM
Palapa Learning Center 
Click here to R.S.V.P
Inauguración Centro Educativo Palapa y Apertura de Biblioteca con Elena Poniatowska
11 de Noviembre, 2017 – 5:00 pm
Centro Educativo La Palapa
Entrada gratutia
Se invita a la comunidad entera a reunirse para esta celebración de la Gran Inauguración del Centro Educativo de la Palapa y la Apertura de la Biblioteca Elena Poniatowska.
A Special Thank You for Our Sponsors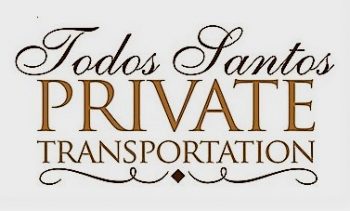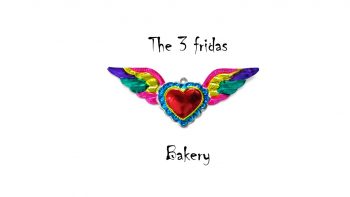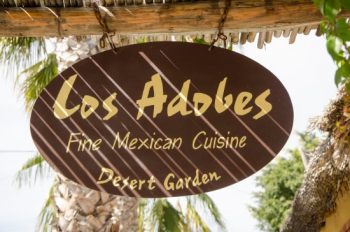 ---