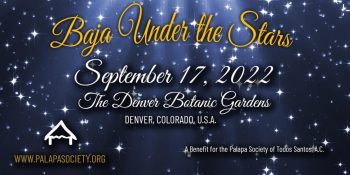 Join us for Baja Under the Stars 2022 (Denver, CO)
We are excited to announce Vic Lombardi as the auctioneer for the upcoming Baja Under the Stars fundraising event. This gala will be held September 17, 2022, at the Denver Botanic Gardens to benefit The Palapa Society of Todos Santos.
Vic Lombardi is a longtime Denver sportscaster and 30-time Emmy award winner for his work in local television. Born and raised in Denver, he graduated from the University of Notre Dame and now lives with his family in Golden, Colorado.