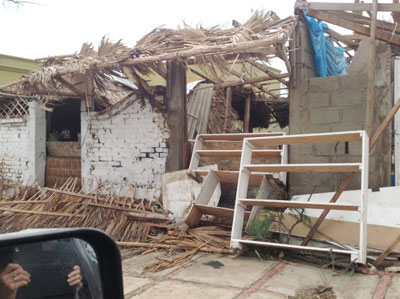 Palapa Society has set up a Hurricane Odile Disaster Relief Fund.
Our small town of Todos Santos, in Baja California Sur took a direct hit from Category 3 Hurricane Odile on Sunday, Sept 14th, 2014. The devastation is huge leaving no services of power or water. The markets from our small town have been depleted of supplies, many homes have been leveled, and people are struggling to survive. Still this small pueblo shows the true heart of the people of Baja with their spirit of endurance and community cooperation.
The Palapa Society of Todos Santos AC is so grateful to be able to help so many of our local towns people recover from Hurricane Odile. With your contributions we will help to feed, clothe and rebuild the homes and lives of our people in this beautiful Pueblo Magico. There are so many who have lost so much but have survived this disaster with hope and dignity. Together Todos Santos is strong and will persevere.
The Palapa Society Todos Santos is assisting more than 150 people who lost their homes and were totally displaced. We have assisted in all their needs while they are temporarily housed in Todos Santos. Phase 1 of this effort is to provide food, water, shelter and clothing.
Phase 2 of Palapa Society's relief effort will include larger needs in the community, reconstruction and assistance with building materials for people who lost their homes.
Your generous donation is welcomed by the Palapa Society of Todos Santos Team. We are working hard in helping people in the community.
To make an immediate donation go to:
 GoFundMe.com
For a tax deductible U.S. donation through the International Community Foundation (ICF) please go to:
 Our ICF Hurricane Relief Donation Portal
This relief effort will become a reality thanks to your generous contributions!