"When world-renowned writer Elena Poniatowska arrived at the library for the ribbon-cutting ceremony, there were hundreds of people in attendance. Elena quietly lamented to me that she had left her copy of Joan Didion's Th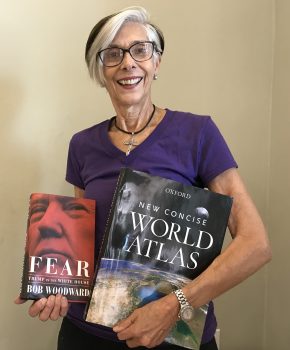 e Year of Magical Thinking on the airplane. Imagine her surprise when I told her we have that book, and I proudly gave it to her!"
A decade's worth of memories came pouring out of Donna Shultz, after we received her letter of resignation as Director of the Biblioteca Elena Poniatowska, the largest bi-lingual library in Baja California Sur.Donna started volunteering when the library was just a little room on Calle Obregon. This was shortly after building a home in the area with her husband Walt. She had just wrapped her role as the Wicked Witch in Teatro Luna Azul's production of The Wizard of Todos Santos and wanted to immerse herself into the community that had embraced her from the beginning. When Library Director John Warner left, Mary took over, and together, they relocated the library into the Casa Verde house provided by Peter Buck, in the San Vicente neighborhood. Mary left, EJ took over, and three years later Donna followed as the Director. Donna spearheaded the move to The Palapa Learning Center, which took two weeks with the help of dedicated volunteers in the October heat.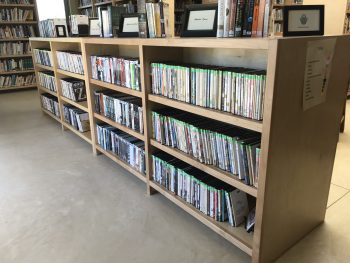 "I always say that Palapa Volunteers are unpaid not because they are worthless, but because they are priceless. The library wouldn't be possible without them. For me, my payment was the joy we brought and contribution we made to the community. It's been so rewarding – I see the impact the library has had on the entire community every day."
CONTINUED FROM NEWSLETTER: This thought led to another memory of when Roberta Jackson, the US Ambassador to Mexico under the Obama administration, visited The Palapa Learning Center. She was impressed by what was created by donations and volunteers. The Ambassador stated, "This library exemplifies what can be accomplished when the foreign community works with the local community to build something positive for everyone."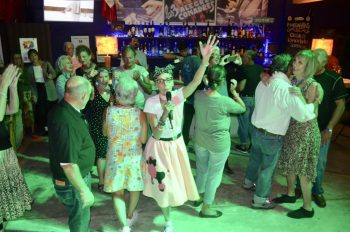 Donna's passion for books and for connecting with her team and the community was evident, even when planning fundraisers to purchase new books. Her Happy Days – Dinner and '50s Dance Party at restaurant Gallo Azul was a huge hit and included a dance contest, awards for best costume, and a raffle for a Cate Thomassen mosaic table. On Valentine's Day, we could count on Donna and her team when they hand-made thousands of chocolate truffles to sell at the library. Since COVID-19 these sales have moved to pre-orders and remain popular.
Closing the library doors during the first few months of COVID was heartbreaking, but for Donna, it was another opportunity to show her commitment. Every week during quarantine, Donna would email her team of volunteers to stay in touch, as they had become family to her. Together, they donned their masks to clean and maintain the library regularly, so that the books were in good shape for when it was time to re-open. This period also gave life to one of the most important programs under Donna's direction.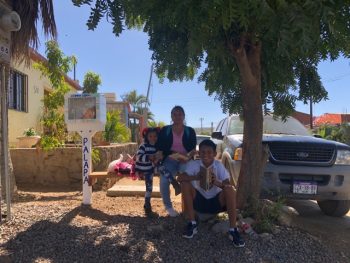 Volunteer Melody Condon had the idea to create Little Free Libraries, which are neighborhood book exchanges in the form of a public bookcase, thus creating another option for the closed library. Donna ran with it. It took six weeks to get permission from Delegado Tito Palacios to place the libraries at Pinos Park in the center of town, in front of The Padrino Children's Foundation in the San Vicente neighborhood, and near La Esquina Café in the San Ignacio neighborhood. She recruited her husband Walt to build the library structures and pay for the materials. Then she found a volunteer to set them up at each location. Evie, a student from The Palapa School who loves reading, went with Donna to fill the boxes for the first time. At the park, they saw a mom and daughter who walked up to see what was inside the bookcase, and the daughter took a book. Evie and Donna's eyes welled with tears of excitement.
"This is why we do it," says Donna.
The Palapa Society's Little Free Libraries of Todos Santos are officially registered with the international non-profit Little Free Libraries, which has over 100,000 libraries worldwide. You can view the plaque at the library kiosk in Pinos Park.
When asked what she'll miss the most about being Director, Donna effused with gratitude for her team, especially her right-hand Maryann Douglas, who has been a library volunteer and patron since the beginning, over 18 years ago. Not only is Maryann a sounding board and confidante for Donna, she has also kept the library open through the summer months year after year. Donna enjoyed getting to know the likes and dislikes of the regular visitors like cardholder Johnny Walker, who can't get enough of a certain genre of books, which may or may not be trashy romance novels.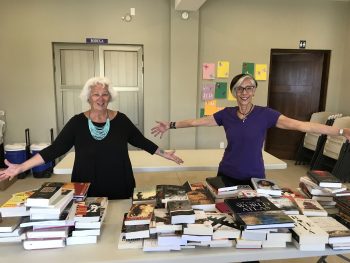 "There isn't a day that I'm not in wonder of what we have accomplished here. And I want it to keep going. I'm surprised at the books we have here – all interests including how to play guitar, biographies, classics, best-sellers…"
She asks that everyone continue to support The Palapa Society and the Biblioteca Elena Poniatowska by becoming cardholders, donating during fundraisers, and spreading the word that the library is for everybody.
It's no surprise when Donna lets us know what she plans to do next. "Oh, I'll still volunteer here every Wednesday from 10am to 1pm."
The Palapa Society thanks Donna Shultz for her leadership, her professionalism, her dedication, and for giving her all to the Biblioteca Elena Poniatowska. It wouldn't be what it is today without her, and she is leaving big shoes to fill.
This page may also be available in:

English (Inglés)