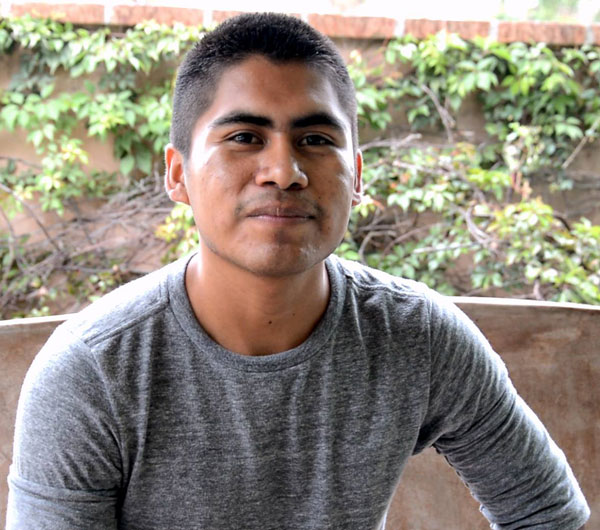 Pedro
My name is Pedro López Lopez, I am 22 years old and I am from the ejido Melitón Albañez. I am finishing up my last semester majoring in electro-mechanic engineering at the Technical Institute of La Paz.
I was introduced to the scholarship program of the Palapa Society when I was studying high school in Todos Santos. At the time my sister was a fellow of this program, I was later notified that I was also going to receive the same help. This support has been a big help to me given the fact that I come from a family with few resources. It has covered a big portion of the cost of my studies and of the materials I have needed. As a student, I consider it important to set goals and objectives for oneself in order to make good use of the support given by the Palapa Society.
I consider myself to be a good student and thanks to having maintained good grades, I was selected to participate in the program 'Summer of Scientific Research' organized by the Mexican Academy of Science, which took place in 2014 in Mexico City. There I preformed general studies on solar panels and photovoltaic systems at the Center of Research and Advanced Studies of the National Technical Institute (CINVESTAV, its abbreviation in Spanish).
This was a great experience for me. I had the opportunity to acquire new knowledge and it also helped me define my interest in science and allowed me to consider studying a postgrad in the future. This program was only possible thanks to the Palapa Society's help.
I am currently doing an internship in the maintenance and conservation area at the ISSTE Hospital. I am also part of a project with another classmate who invited me to join the project "Control of an Inverted Pendulum Wheel". This consists of participating in the assembling and wiring as well as computer simulations; all this is under the advisory of engineer Jose Luiz Gómez, a masters student in the postgrad department at the Technological Institute of La Paz.
To learn more about the Beca Scholarship Program and how to become a Beca Angel click here to view a video.
Pedro Working with Robotics to Help Others
The Palapa Society of Todos Santos, A.C. is excited to announce that our Beca student, Pedro Lopez Lopez, has a project he and his friends are developing. They are building a robotic prototype that will help people that are immobilized to walk with mechanical assistance. Your votes will aid in them having the opportunity to attend a robotics workshop at MIT, in addition to receiving seed funding for further developing their project in iLab (Jalapa, Veracruz, Mexico). Currently people can still go to the project link below and register their vote for this innovative and amazing project.
Go to this LINK to the project to VOTE for Pedro.
Link to YouTube Video about the project.
Link to a News article about this project.