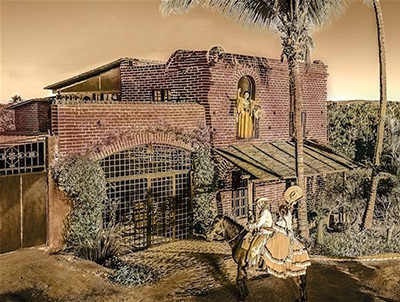 Get tickets here.
Citizens of our Pueblo Magico invite visitors to tour their historic homes. Tour the Historic Homes of Todos Santos and learn more about our town's history. Past historic sites on the tour include private homes, hotels/inns, municipal buildings, mission church, and sugar cane processor. Experience sites thoughtfully restored to reflect the uniqueness of the days before electricity and telephone. Open just one day to the public, these magnificent homes and buildings allow you to soak in and imagine the tranquil elegance of Todos Santos over a century ago. Be sure to bring your family, friends, neighbors and architects.
This is a Bi-Annual Event (held every-other year).
2020 starts at the Casa de Cultura, followed by a walking tour of El Centro.
10:00am to 4:00pm
$400 MX
Proceeds from the tour support The Palapa Society.
Art work for this event was done by Kate Turning. Thank you Kate.