An Auction to Benefit the "Beca Angel" Program
of The Palapa Society of Todos Santos, A.C.
Here is your chance to own this exclusive Saint, hand painted by Led Zeppelin's John Paul Jones. All proceeds to benefit the "Beca Angel" educational scholarships program for students in the Todos Santos/ Pescadaro area of Baja California Sur, Mexico. Check out the video above.
This Auction is over.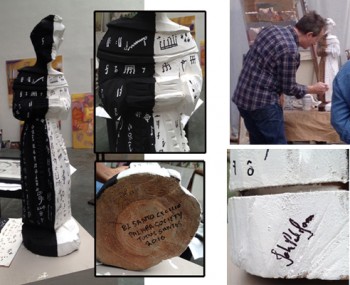 During the Todos Santos Music Festival of 2016 in January, many of the musicians that played in the festival participated in the "Paint a Saint" project to raise funds for the Palapa Society "Beca" scholarship program. Each musician was given a carved wooden saint statue to paint/decorate. The Palapa Society held live auctions each night of the festival of these painted saints. The auctions were a huge hit, so it was decided to make this special auction of the painted saint by John Paul Jones available to everyone through an online auction.
This Painted Saint is 29″h x 8″w x 8″d.
John Paul Jones was the bassist, keyboardist, and co-songwriter for the English rock band Led Zeppelin.
John Paul's painted saint was inspired during the Music Festival in January when he played live onstage with the popular La Santa Cecilia, the Mexican-American band based in Los Angeles, California. Watch the video at the top of this page of that inspirational performance.
The name La Santa Cecilia is based upon the patron saint of musicians, Saint Cecilia.
BIDDING INFORMATION
Auction Begins: April 15, 2016 at 3:00 PM EDT
Auction Closed May 6, 2016 at 3:00 PM EDT