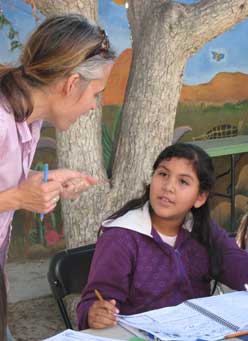 The development of southern Baja and the subsequent demand for bi-lingual employment created a need for an affordable venue for the young citizens of our town to learn English. With the help of "language mentors", volunteer members of the foreign resident community, a program was developed in which the children would learn English from English speakers. A structured syllabus for instruction along with songs, games and art to broaden language use has resulted in a fun and creative atmosphere of cross-cultural language learning. The after-school classes are held Monday through Thursday at The Palapa Center in Todos Santos.
A nominal book and materials fee is charged. Scholarships are available. No child wanting to learn is turned away!
This program welcomes visitor volunteers. It is a wonderful opportunity to enrich your travel experience by meeting the children and residents from the Todos Santos community, make new friends, and "do some good" .